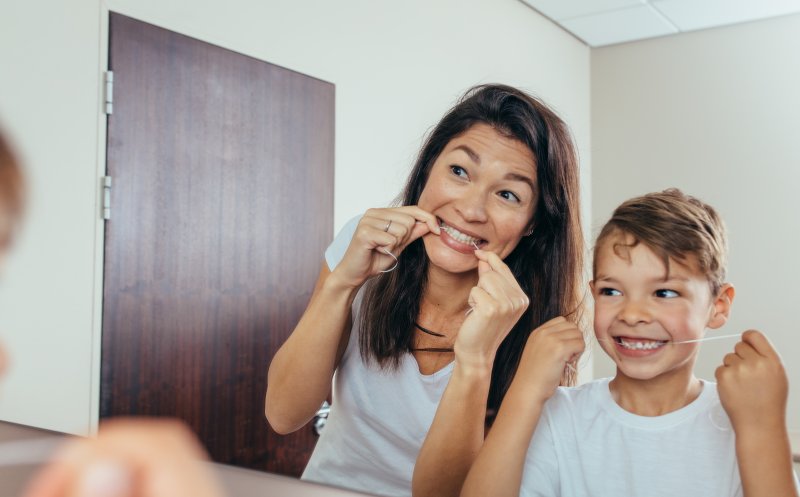 Flossing is a key component of any good oral hygiene regime. In order to remove harmful bacteria and food particles from between the teeth, dental floss is an effective tool to make this part of the process successful. But how do you know when it's the right time for your child to start flossing? After all, it does require some careful maneuvering and skill to safely and effectively get in-between the teeth. To help you determine when you should help your little one make this next step, hear from a pediatric dentist in McKinney who can help.
How Important Is It for a Child to Floss?
Young teeth are much more prone to developing caries and tooth decay. In fact, the Centers for Disease Control (CDC) states that early childhood cavities are the most common health problem among kids ages 2 to 11. The reason for this is that their manual dexterity is not fully developed until they are ages 7 and 8, making it difficult to reach certain areas of the mouth and effectively remove harmful bacteria and food particles.
When cavities are left untreated, this can lead to serious oral health problems, including increased infection and possible tooth loss. While baby teeth will eventually fall out and be replaced with adult teeth, losing these primary ones can negatively impact a child's ability to speak and eat. It will also determine how their permanent teeth will erupt.
If you want to make sure your child's chances for developing tooth decay is lessened, here a few tips you should consider:
Never give a baby or toddler a bottle when going to bed. Milk or juice can gather on the gums and lead to decay. If you want to give your child something to drink, opt for water.
Limit the amount of sugar your child consumes. Too much sugar and starch can cause plaque to develop on the surface of teeth and at the gum line. When this happens, the acid found in plaque can begin to eat away at their tooth enamel and cause cavities.
When Should a Child Begin the Process?
While it may not be easy, flossing should start once your child's teeth become more mature and begin to erupt. If your little one has difficulties with brushing, flossing may not be an easy feat; however, Dr. Justin and Dr. Sage can provide valuable tips and suggestions as to how best to approach this new step to make the entire process easier for both you and your child.
It's important that you help your child refine their technique as they grow older, continuing to supervise both brushing and flossing until they are capable of doing it on their own. It is also necessary to make sure your child continues to see their pediatric dentist every six months to not only receive a full cleaning but also a proper checkup to ensure there are no signs of decay and gum disease developing.
During these visits, take some time to discuss ways you can help your child improve his or her dental hygiene habits at home and if there are any tools that might be more beneficial to help them achieve better oral health.
About the Authors
At Sprout Dentistry for Kids, Dr. Justin Chan and Dr. Sage Yoo believe in the importance of caring for your child's oral and overall health. Offering comprehensive services to care for the dental needs of all patients, they take pride in providing the highest level of quality care even to the youngest members of your family. From infancy to adulthood, you can trust that your child's teeth, gums, and overall well-being are in the best hands with Dr. Justin and Dr. Sage. To learn more about our services, visit our website or call (469) 301-3212.