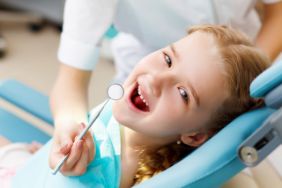 Welcome! At Sprout Dentistry For Kids, we're thrilled to announce opening as a new pediatric dentist in McKinney in the fall of 2019. Our two outstanding dentists, Dr. Justin and Dr. Sage, love living in the community and look forward to helping the children in the area achieve great oral health. Along with our fantastic staff, we love working with kids and giving them a great experience in the dental chair. In today's blog, which is our very first, you'll learn more about our doctors and the services they provide. But be sure to check back in each month, as we'll be writing new blogs on a variety of kid-related dental topics. We look forward to meeting you and caring for your child's smile!
Comprehensive Care For Babies, Toddlers, Kids, and Teens
We hope to see our patients for their very first checkup and continue seeing them until it's time for them to head off to college. With a wide menu of services, we're able to meet the needs of children at every stage of development:
Checkups and cleanings (including an oral cancer screening at each visit)
Preventive care such as sealants, fluoride treatments, and sports guards
Laser dentistry, which results in less discomfort, faster healing, and smoother procedures overall for kids
Metal-free fillings and crowns
Extractions and wisdom teeth evaluation
Sedation dentistry for kids (nitrous oxide, oral conscious sedation, and general anesthesiology)
Lip & tongue-tie treatment
Emergency care
What Sets Dr. Justin and Dr. Sage Apart?
Simply put, Dr. Justin and Dr. Sage are committed to excellence. With a passion for helping kids in the McKinney community and surrounding areas, they've devoted countless hours to advanced training and active involvement in the field of pediatric dentistry. Not to mention that they're both fathers themselves, which helps them understand the unique needs of little ones even better. In addition, your child will have the benefit of being cared for by not one, but two dentists that will always be there to meet their needs. 
But, perhaps most importantly, each of our doctors at Sprout Dentistry has an incredibly warm, friendly chairside manner and are able to put kids (and their parents) at ease. That, along with our state-of-the-art facility and technology, allows us to provide the absolute best dentistry for kids in McKinney.
Ultimately, our goal is to watch our patients grow into adulthood with happy, healthy smiles. If you're looking for a pediatric dentist that your child can grow with, don't hesitate to get in touch!
About Sprout Dentistry For Kids
In addition to being board-certified pediatric dentists in McKinney, Dr. Justin and Dr. Sage are both fathers as well. With years of experience and a track record of academic and professional excellence, they're dedicated to helping kids achieve great oral health in a comfortable environment. If you have any questions, you can contact us via our website.