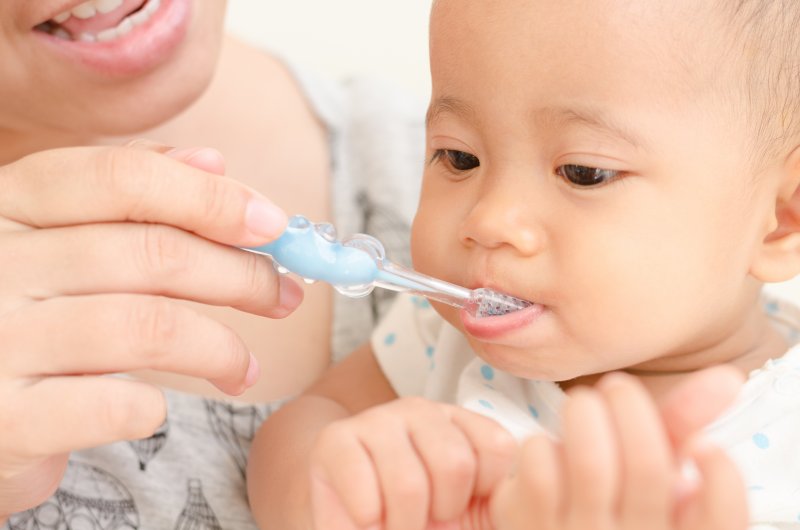 If you're wondering what to expect during the initial exam with a dentist for infants in McKinney, you're not alone. Many first-time parents, especially, wonder what a dentist could possibly be looking for or treating when only a few teeth are present. But this important visit will set the stage for positive experiences and healthy habits as your child grows and develops over the years. Read on to find out what you can expect from this first visit and how Dr. Justin and Dr. Sage will work to make your child comfortable and at ease during their appointment.
What is Expected During the First Exam?
Dr. Justin and Dr. Sage believe in the philosophy of establishing a dental home and a lifetime of care. When bringing your child in for their first exam, the most important step is to create a trusting and welcoming relationship between your little one and the dental team. Do not be alarmed if your baby seems a bit fussy or unsure, as all of the sights, sounds, and faces are unfamiliar, but rest assured, with a gentle touch and calming demeanor, your child's pediatric dentist in McKinney will make them feel comfortable and at ease throughout the visit. At Sprout Dentistry for Kids, we aim to ease your child's introduction to the dental office setting with our comforting visual exam rooms that were envisioned and designed to feel more like a nursery without all of the possibly intimidating dental equipment. These rooms also serve as a private area where mothers can nurse their infants immediately after lip and tongue-tie release procedures.
It is important that you give your child's dentist a thorough explanation of their oral and overall health history, as this will be beneficial when examining and treating any possible problems as well as alert Dr. Justin or Dr. Sage to any special needs your child may have.
After introductions, the dentist will perform a quick exam and cleaning. The dentist will check their teeth, jaw, bite, gums, and soft tissues to ensure everything is growing and developing properly and no decay or disease is present.
What Useful Tips or Suggestions Will You Receive?
During any visit, Dr. Justin or Dr. Sage will be happy to provide parents with suggested in-house treatments as well as tips to care for their baby's teeth and gums at home. Some of these might include:
Topical Fluoride Varnish Treatments: By allowing your child's dentist to apply this type of treatment, you can protect your little one's teeth from dental caries (cavities) as well as strengthen tooth enamel.
Good Oral Hygiene At-Home Habits: From how to brush a baby's teeth and gums to how much toothpaste should be used, Dr. Justin and Dr. Sage can provide recommendations on products and how to best care for your child's teeth at home.
Breaking Bad Habits: Your child's dentist can provide tips on how to stop thumb sucking, pacifier use, and bottle feeding at night.
Teething: As your child's teeth continue to erupt, it's likely they'll experience discomfort. The dentist can provide useful suggestions on ways to care for a teething baby and how to help them find relief.
Options for treating early dental decay: As with most problems, dental decay is best treated when addressed early on in the disease process. We can spot early signs of decay and address them before they worsen and potentially need to be treated surgically. For children with decay that would benefit from buying some time before treatment can be completed, Silver Diamine Fluoride may be a very good option to attempt to stop the progression of the decay non-surgically until restorations can be completed.
Your child's first dental appointment is very important. Not only will it help build rapport with their oral healthcare team, it will also set them up for a lifetime of positive experiences at the dentist's office, but it will always put them on the right path to better oral health.
About the Authors
At Sprout Dentistry for Kids, Dr. Justin Chan and Dr. Sage Yoo believe in the importance of caring for your child's oral and overall health. Offering comprehensive services to care for the dental needs of all patients, they take pride in providing the highest level of quality care even to the youngest members of your family. From infancy to adulthood, you can trust that your child's teeth, gums, and overall well-being are in the best hands with Dr. Justin and Dr. Sage. To learn more about our services, visit our website or call (469) 301-3212.