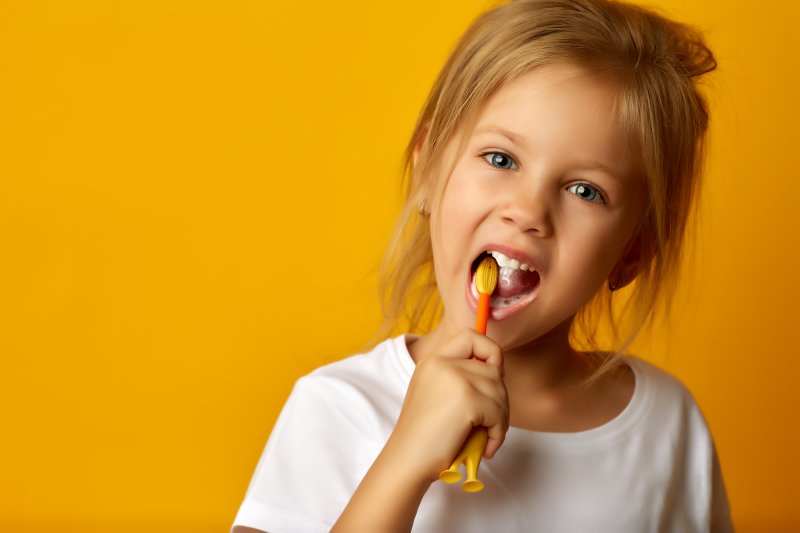 You know your child needs a dental checkup and cleaning but trying to find someone you can trust isn't always easy. In your search for a "pediatric dentist near me," you want an individual or a team who is willing to not only care for your child's oral health but their overall well-being, too. Fortunately, at Sprout Dentistry for Kids, Dr. Justin and Dr. Sage can provide the type of care you're looking for, as well as offer valuable tips for keeping your child's smile healthy and safe at home.
Keep Their Gums Clean
If you have a baby in the household who has yet to experience a tooth erupting through the gums, make sure you're cleaning their soft oral tissues with a clean, damp cloth or silicone fingerbrush. By gently rubbing it along their gums, you can not only remove milk residue, but it also helps to soothe soreness caused by teething.
Use a Small Toothbrush to Clean Their Teeth
The moment that first tooth erupts, find a small, soft-bristled toothbrush that you can use to begin cleaning their tooth (or teeth). During your child's visit, Dr. Justin or Dr. Sage will base their recommendation on home care on your child's exam findings. There are various training toothbrushes available on the market as well as training toothpaste, but sometimes using a clean damp toothbrush may be all you need for young children at the early teething stage. As more teeth grow, especially molars, switching to an age-appropriate soft-bristle toothbrush is advised along with a "smear" of toothpaste (the size of a grain of rice), as your child will be unable to spit the contents out of their mouth when finished. Once they are 3 years of age, you can begin to use a pea-sized amount of fluoride toothpaste for brushing purposes.
Avoid Bottles at Bedtime
Whether you're putting your child to bed for the night or down for a nap, do not give them a bottle filled with milk or juice. If allowed, the child will likely drink off and on until they fall asleep. This raises the risk of bottle tooth decay. Carbohydrates in these beverages encourage oral bacterial growth including the bacteria responsible for tooth decay. If you decide to give them something to drink, brush and floss their teeth again afterwards, or opt to give them water instead.
Limit Bottle Usage
It should never take your baby longer than 5 or 6 minutes to consume a bottle. The longer or more frequent the contents are allowed to sit on their teeth, the higher the risk of tooth decay. Watch to see how long it takes for your little one to consume a bottle and if it appears to be taking longer, talk to your pediatric dentist in McKinney about ways to remedy this issue.
Don't Let Your Child Brush Alone
It can be difficult for a child to effectively brush their teeth until they are around the ages of 7 or 8 because their manual dexterity is typically not developed enough until this age. Until that time, it is best if you help them by allowing them to watch you brush your teeth as well as showing them how to reach certain spots that can be easy to miss. Promote their independence by allowing them to brush first, and you guide them on touching-up the missed spots together with your guidance. Setting a routine will be helpful as they grow, as this encourages them to get into the habit of caring for their teeth each morning and night.
Limit Sugary and Acidic Food Consumption
While your child might beg for a candy bar or a bottle of fruit juice, try to limit their consumption as much as possible. Hard and sticky candies, fruit strips, acidic juices and drinks can all be harmful to their teeth and gums. Not only can the sugar found in these items remain on their teeth for longer than necessary, leading to tooth decay and cavity development, but the acid in certain juices and drinks can lead to noticeable staining, tooth sensitivity, and break down tooth enamel resulting in the development of decay.
Dr. Justin and Dr. Sage are here to provide any additional tips you might need to better protect your child's teeth at home. We know it's not always easy trying to keep young smiles clean and healthy, so when in doubt, ask for help!
About the Practice
At Sprout Dentistry for Kids, Dr. Justin Chan and Dr. Sage Yoo want you to feel confident and comfortable caring for your child's teeth at home. While regular dental checkups and cleanings are beneficial and important to preventing decay and disease, so is practicing good oral hygiene at home. As a team that cares about your child's oral and overall health, we are proud to offer patient education to both you and your little one, providing tips and techniques that are beneficial for keeping their smiles in check throughout the year.
Are you part of a Parents' Group interested in setting up a forum to answer your dental questions? We periodically host Sprout Camp for kids and parents to introduce them to our practice as well as to share useful knowledge to help educate, empower, and encourage better oral health for children. Please contact us if you are interested in more information on Sprout Camp.
To learn more about our services, or to find out how we can help you better protect your child's smile, visit our website or call (469) 301-3212.