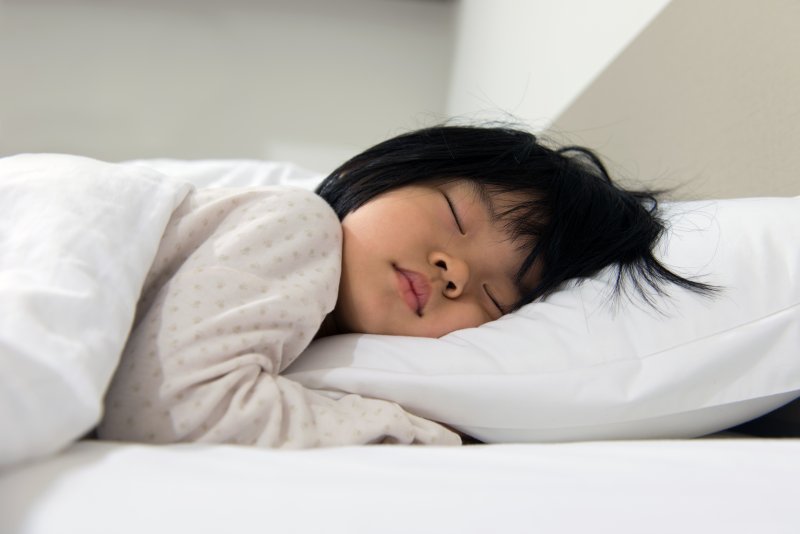 The current changes that are happening throughout the world are having a substantial impact on not only adults but children as well. When you combine a global pandemic that requires everyone to wear a face mask when going out in public with the start of a new and uncertain school year, it should come as no surprise these stressful situations are just a few reasons behind trouble sleeping for kids in McKinney. As a parent, take a few moments to discover what you can do to help your little one sleep and breathe better during this difficult time.
Burn Energy by Playing Outside
COVID-19 may be keeping you from being able to take your child to a local park or playground, but you can still help them burn off all that excess energy by playing outside. Whether it is the front or backyard or a nearby walking trail, engage them in a race, or take them on a hike. By helping them get plenty of physical exercise, their body temperature will increase. Once it lowers, your child may be able to fall asleep without interruption. Plus, this type of play will take their focus off their current stresses and allow them to enjoy time spent with you.
Keep a Consistent Bedtime
Summer may be a time for staying up late and/or sleeping in, but it is in your child's best interest if you help them stick to a consistent bedtime. Too often, when children stay up later than normal, they experience difficulty falling asleep or wake continuously throughout the night. Keep their schedule on track by following age-appropriate bedtimes.
Avoid Electronic Devices
Depending on the age of your child, they may or may not be glued to a smartphone or tablet. While COVID-19 has caused kids to find alternative ways to connect with friends (i.e. Zoom, FaceTime), you need to make sure their devices are powered down at least one hour before bedtime. These electronics emit a blue light that often makes it difficult for both children and adults to fall asleep. Some people have found that blue-light blocking glasses have helped reduce eye-fatigue and counteract the use of electronic devices prior to bed. However, turning off these devices well before bedtime is your best bet that may help your child sleep more soundly and wake well-rested.
Talk to Your Child
Let your child know they are free to express their concerns, worries, fears, and anxieties. When your kid feels safe being able to vent their frustrations to you, it will be easier to sit down and discuss ways in which they can work through their emotions. A child who is feeling overwhelmed or unsure about the possible effects of a contagious virus, the start of a new school year, or other stressful situations may experience behavioral issues, so it's important that you take time each day to check in with them and provide reassurance. When you remain positive and confident, your child may be more likely to do the same.
Observe Their Sleeping Patterns
Does your child sleep with their mouth open? Do they snore or grind their teeth? Issues with prolonged bed-wetting? Are they irritable in the mornings or appearing depressed? Many parents would assume that their child is simply not getting adequate sleep. But if you're wondering why your child's quality of sleep is deficient, it could be they are suffering from problems associated with airway/breathing in McKinney or a sleep breathing disorder. When a child is unable to breathe properly through their nose, they may begin to breathe through their mouth, which can lead to problems with facial development as well as an inability to achieve restful sleep. As a result, behavioral, developmental, and social problems can begin to occur. Combine these issues with the stressors of a global pandemic and an uncertain school year, and your child could be faced with sleepless nights until adequate treatment is provided.
If you believe your child's inability to sleep is due to an obstruction in their airway, don't wait to seek help. Consider scheduling a consultation with Dr. Justin or Dr. Sage, our children's dentist in McKinney, so they can identify the right solution to help your little one breathe better and sleep more soundly at night.
About the Authors
Dr. Justin Chan and Dr. Sage Yoo are both fathers who are also board-certified pediatric dentists. Taking pride in providing the highest quality dental care for the families looking for pediatric dentistry in McKinney, they combine their passions for holistic and children's dentistry and provide a breadth of comprehensive services designed to meet the needs of your child. Their mission is to ensure the growth and development of your little one's smile and overall wellbeing. To learn more about our available services, visit our website or call (469) 301-3212.