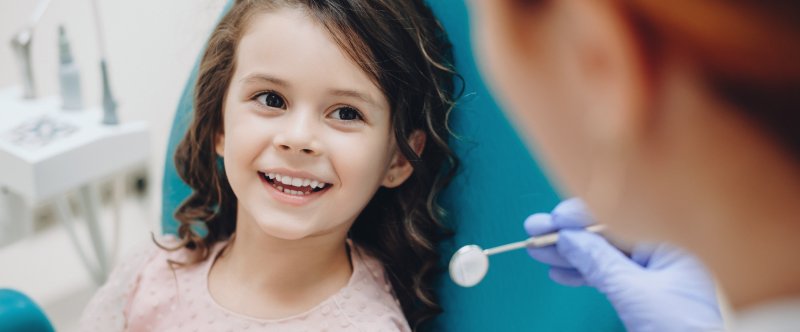 It is safe to say that 2020 threw everyone a curveball with the ongoing pandemic. Because of COVID-19, many young patients were unable to see their pediatric dentist for regular checkups and cleanings, and unfortunately, your children's dental insurance coverage won't offer any benefit extension. This is why Dr. Justin and Dr. Sage strongly recommend you maximize your child's plan while there is still time. Since these benefits will not roll over, it is in your best interest and that of your child to get the most out of your coverage, as it will not only put more money back into your pocket, but it will more importantly keep your little one's smile healthier as they enter into a new year. Read on to learn what you can do before 2020 ends.
Schedule Their Second Checkup Now
It is recommended that children see a pediatric dentist twice a year for preventive checkups and cleanings. Not only do these visits ensure their smile is free of tooth decay and gum disease, but it also enables Dr. Justin and Dr. Sage to check for any early signs of bite alignment issues and facial development abnormalities that might stem from oral health problems. Preventive care is one of the most important steps you can take in helping your child achieve optimal dental health. Because of the ongoing pandemic, many insurance companies are waiving their "six months and one day" policy and allowing patients to see their dentist a second time before the end of the year, even if their first visit was less than six months ago.
Move Forward with Advanced Treatments
If your child requires complex or advanced treatment of any kind, it is best to have it done before 2020, and here's why:
As part of your dental insurance plan, you are provided an annual maximum. This is the designated amount of money your insurer provides that will help you and/or your child receive necessary dental care during one calendar year. Any remaining, unused balance is given back to the insurance company come midnight on December 31, causing you to lose valuable money. To avoid this, make sure to let your child's pediatric dentist move forward with any recommended, complex dental care before the end of the year. This will ensure you use your annual maximum and prevent most, if not all, from falling back into the hands of your insurance company.
Choose an In-Network Provider
Dr. Justin and Dr. Sage accept all PPO insurance plans, and they are pleased to be in-network with an array of companies, some of which include:
Cigna DPPO
Geha
United Healthcare
Lincoln
BlueCross BlueShield
Guardian
Delta Dental PPO/Premier
By choosing an in-network provider, you will save money each year because of the pre-negotiated fees for various services offered. As a result, you receive a discounted rate on certain restorative and surgical procedures in comparison to the normal fees charged to someone who is out-of-network.
Make sure your child's smile is ready for the new year. By keeping them up to date on their twice-yearly appointments and getting them the dental care that they need, you can feel confident you are maximizing your insurance while helping your little one enjoy a healthier smile.
What if My Dental Insurance is Out-of-Network?
Did you know that most PPO dental insurance plans cover diagnostic and preventive procedures at the same rate for in-network and out-of-network? Since insurance companies save money by needing to pay out less benefits for kids with healthy teeth and smiles and fewer cavities, insurance companies typically cover routine exams, x-rays, and cleanings at or near 100% whether a doctor is in-network or out-of-network for specific PPO plans.
Insurance companies don't typically share this information because they would much rather cover preventive services at 100% of a lower fee than 100% of a slightly higher fee. Insurance plans can be complicated and each has its own coverages and limitations whether in or out-of-network. We are eager to help you and your child receive the highest quality care and service, while not being restricted by insurance plans and networks. If you have questions, please give us a call so that we may help you.
About the Authors
At Sprout Dentistry for Kids, Dr. Justin Chan and Dr. Sage Yoo believe in the importance of caring for your child's oral and overall health. They also understand certain treatments can be costly, which is why they implore parents to maximize their child's dental benefits before the end of each year. Because young smiles are often prone to cavities, it is imperative to use available insurance to ensure your child receives the dental care they need to keep their smiles healthy as they develop. If you need assistance finding ways to get the most out of your child's benefits, visit our website or call (469) 301-3212.