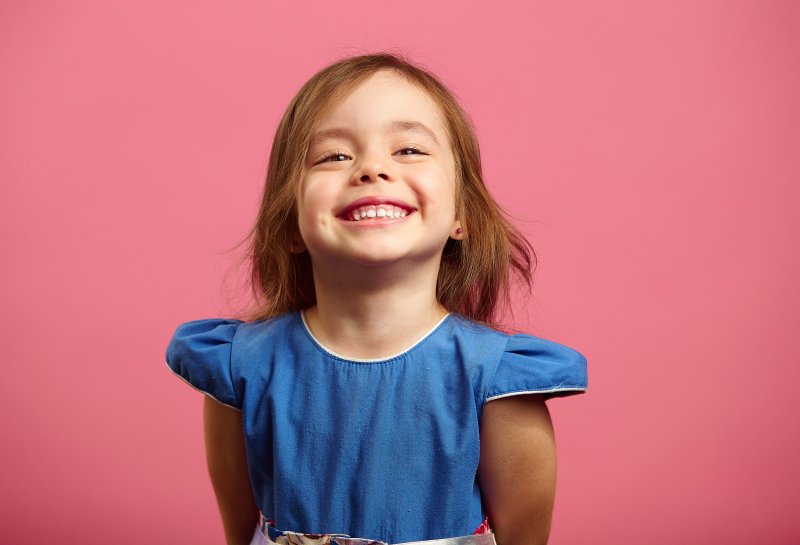 February is National Children's Dental Health Month. This means your child's pediatric dentist will focus their attention on the importance of dental care at an early age as well as providing you, the parent, with valuable tips to encourage and inspire your child to maintain good oral hygiene at home. Dr. Justin and Dr. Sage firmly believe in patient and parent education, which is why this article focuses on beneficial ways you can make oral health an important aspect of your child's life. Read on to learn more about children's dental health in McKinney and what you can do to ensure their smile in on the right track.
When to Schedule Their First Dental Appointment
The rule of thumb to follow is to schedule your child's first dental appointment when their first tooth comes in or by the time they turn a year old. While your child is still young, this initial visit is not only beneficial in allowing your little one to establish a relationship and familiarity with their pediatric dentist in McKinney, but it also serves to introduce them to the sights, sounds, and smells of a dentist's office. As a result, this can help lower any anxiety or fears they might develop over time.
Also, this first appointment is helpful for you to learn what you can do at home to keep your child's developing smile in optimal condition. Knowing how to properly clean their gums and teeth as they erupt is key to minimizing the potential for tooth decay, cavities, gum disease, and bad breath.
Why Baby Teeth are Important
While it is true that your child's baby teeth will eventually fall out, it is important they remain firmly in place until the appropriate time. Why? Because it allows for their permanent teeth to erupt without problems. It is not unusual for a child to lose their first baby tooth by the time they reach the age of 5 or 6. But even after all their adult teeth are in place, you will need to be diligent in helping them maintain good oral health to keep tooth decay from causing infections that can negatively impact their smile and body.
As your little one's baby teeth slowly begin to emerge, make sure you are taking added precautions to avoid any habits that can lead to cavity formation. One of the most popular is baby bottle tooth decay, which occurs when your little one is given a bottle filled with a sugary liquid (i.e., milk, formula, juice, soda) when going to bed. If your child insists on having a bottle before nap or bedtime, make sure they drink water, as there are no oral health risks involved.
Helpful Tips to Keep Smiles Looking and Feeling Healthy
As you help your child navigate this time in their life, they may or may not have the manual dexterity to effectively clean their teeth and gums and avoid common dental problems like cavities and gum disease. You can assist them by keeping these beneficial tips in mind:
Maintain regular six-month checkups and cleanings with their pediatric dentist. Dr. Justin and Dr. Sage are available to provide thorough examinations of your child's smile, checking for signs of decay, disease, and changes in their bite development.
Clean your baby's gums with a clean, damp washcloth daily, as this will remove bacteria and remnants left behind from formula or breastmilk.
Once your child's first tooth comes in, use a soft-bristled toothbrush and a smear of fluoride toothpaste (the size of a grain of rice) to gently clean it.
Make sure you brush your child's teeth twice a day for two full minutes. Observe them if they are under the age of 6, as they are more likely to swallow toothpaste, and never let them use more than a pea-sized amount of toothpaste.
Incorporate flossing once you see that their teeth are touching.
Offer healthy snacks and treats to add nutritional value to their diet. Limit or avoid sugary beverages (i.e., sports drinks, fruit juice, soda) as well as sugar-filled candies. Offer fruits, vegetables, and cheese instead.
Make sure they stay well hydrated by having them drink plenty of water throughout the day, as this will not only strengthen tooth enamel (as long as the water contains fluoride) and protect against tooth decay, but it will flush out harmful bacteria and food particles that can cause cavities.
Keep your child's toothbrush in good shape by throwing it away after 3-4 months of use.
At Sprout Dentistry for Kids, Dr. Justin and Dr. Sage can provide additional tips and suggestions to keep your child's smile looking and feeling its best year-round. Should you have questions about what you can do at home to spark their interest in oral hygiene, do not be afraid to speak to a professional.
About the Authors
Dr. Justin Chan has been a practicing pediatric dentist since 2012. Earning his dental degree at New York University College of Dentistry, he remains passionate about caring for and helping children of all ages grow and develop smiles that will last a lifetime. Patients who visit Sprout Dentistry for Kids will not only meet Dr. Justin but also Dr. Sage Yoo, a fellow pediatric dentist at the practice. After studying electrical engineering at Purdue University, Dr. Sage went on to earn his doctorate and complete his residency in pediatric dentistry at Tufts University School of Dental Medicine in Boston. Both he and Dr. Justin offer a variety of comprehensive services to care for the dental needs of all patients who come through their doors. To learn more about our services, visit our website or call (469) 301-3212.