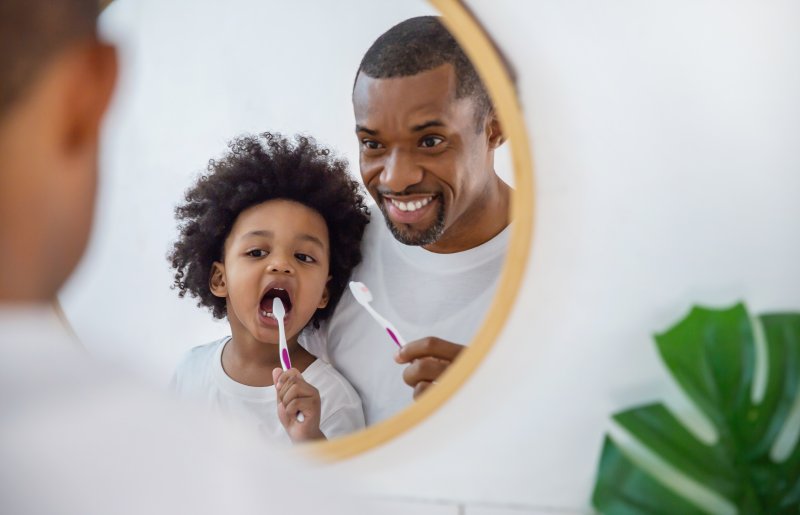 A child's smile is a beautiful thing. From the moment those first few teeth erupt, it's important that you start the process of maintaining a healthy smile early on. By establishing a nighttime routine, you can begin to make positive oral health habits for kids in McKinney normal in your home and improve their chances of sustaining a healthy smile as they grow. Dr. Justin Chan and Dr. Sage Yoo with Sprout Dentistry for Kids are here to explain what you can do to set up a bedtime regime that will benefit them as they approach adulthood.
Why Starting Oral Habits Early Can Make a Difference
Children are often more prone to tooth decay because of their inability to brush and floss correctly. Their minimal dexterity does not allow for thorough cleanings in the morning and at night, which can cause them to be more vulnerable to cavities. Not to mention, kids love to consume sugary foods and beverages, which further increases their risk for serious oral health problems.
As a parent, you can help safeguard your child's smile in many ways. Whether it is swapping out unhealthy snacks for healthier alternatives (i.e., fruits, vegetables, dairy, leafy greens, water) or helping them to brush those hard-to-reach areas of their mouth, these simple tips can make a difference in the current and future state of their smile.
By helping your child avoid many of the most common oral health problems early on, you can reduce their risks of cavities, gum disease, and even tooth loss once they reach adulthood. Not only are these problems time-consuming, but they can be costly to treat. Establishing positive oral health habits now can make a dramatic difference later on in life.
What Type of Routine Will Work?
Every child is different, which is why no set routine will work for everyone. You may need to try different methods, techniques, or options before finding one that works for you and your family. If necessary, you might consider talking to your child's pediatric dentist in McKinney for additional tips. To help you get started, you might try the following set up to see how your little one responds:
Help your child brush their teeth. If they do not yet have any teeth, wash their gums using a damp washcloth. Once their first few teeth erupt, begin using a soft-bristled toothbrush with a smear of fluoridated toothpaste (the size of a grain of rice) to remove bacteria and food particles. Once they are between the ages of 3 and 6, use a pea-sized amount of toothpaste and let them attempt to brush their teeth. You'll need to make sure you assist, however, just to be sure all areas of the mouth are thoroughly cleaned.
Let them pick out their favorite book. Reading to your child can be a positive and beneficial experience. Not only it is a great way to bond, but it allows your child to practice their own reading skills as they age. You might even try incorporating a few books about oral hygiene to help them become more excited about maintaining a healthy smile as they get older.
Maintain a regular bedtime. Children need ample sleep. When they wake rested, they are more likely to excel academically and socially. Also, by cleaning their teeth before they go to bed and when they wake, you can reduce the chances of cavities or gingivitis, both of which can cause them to miss important information at school.
Establishing a nighttime routine for your child will only help to benefit them as they get older. Finding the right solution for your little one may take time, but if you need assistance, don't be afraid to talk to our team at Sprout Dentistry for Kids. We're here to make sure your child's smile stays on the right track throughout every stage of life.
About the Authors
Dr. Justin Chan has been a practicing pediatric dentist since 2012. Earning his dental degree at New York University College of Dentistry, he remains passionate about caring for and helping children of all ages grow and develop smiles that will last a lifetime. Patients who visit Sprout Dentistry for Kids will not only meet Dr. Justin but also Dr. Sage Yoo, a fellow pediatric dentist at the practice. After studying electrical engineering at Purdue University, Dr. Sage went on to earn his doctorate and complete his residency in pediatric dentistry at Tufts University School of Dental Medicine in Boston. Both he and Dr. Justin offer a variety of comprehensive services to care for the dental needs of all patients who come through their doors. To learn more about our services, visit our website or call (469) 301-3212.