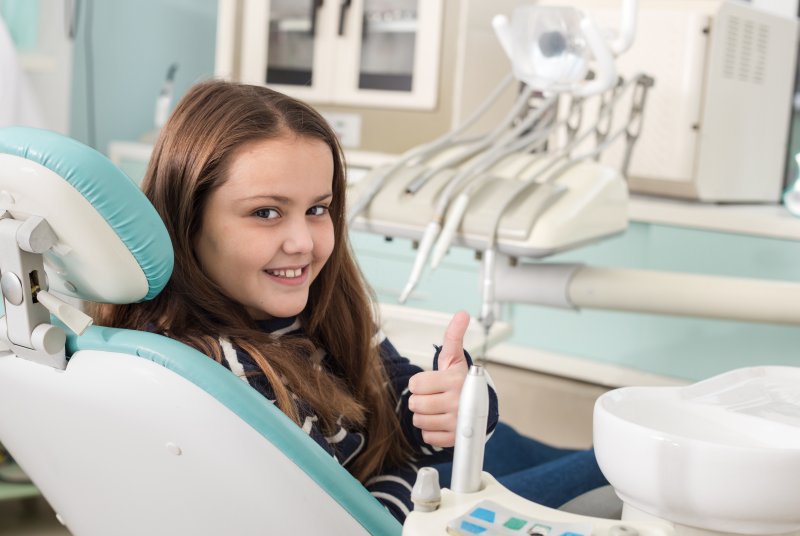 Is your little one fearful of the dentist? Do you find it challenging trying to load them in the car and get them to the dentist's office because of their heightened anxiety? You're not alone. Many parents struggle with the same problem but fortunately, there is a solution that is helping to change the way kids view their upcoming dental appointments. Dr. Justin Chan and Dr. Sage Yoo at Sprout Dentistry for Kids are pleased to incorporate laser dentistry in McKinney into their practice. Offering an easier and pain-free solution to treatment, read on to discover just how impactful this unique method of treatment can be when it comes to your child's future dental visits.
What is the Purpose of Laser Dentistry?
Young smiles need regular attention and care. Because of their increased vulnerability to tooth decay and dental caries, it is not uncommon for a child to require restorative treatment when visiting the dentist's office. For some little ones, the idea of undergoing any type of procedure can be scary, which is why laser dentistry can make a positive impact on your child's experience.
But if you're wondering when it's most often used, the doctors at Sprout Dentistry for Kids are here to explain. Laser dentistry is most commonly used in place of traditional scalpels, drills, and sutures. Whether it is hard or soft tissues that must be treated, a dental laser can easily maneuver along teeth, bone, and gingiva with optimal precision and accuracy.
At Sprout Dentistry for Kids, Dr. Justin and Dr. Sage use the Solea CO2 dental laser, which is the first to be cleared by the FDA for all-tissue dental procedures. Whether it is filling cavities, eliminating a lip or tongue-tie, removing a mucocele or fibroma, or minimizing bacteria to lower the potential risk for gum disease, laser dentistry can ensure a safer, more comfortable experience for your child.
How Can It Positively Benefit My Child?
If the idea of using a laser to treat your child's oral health problem seems unnerving, it's important that you consider the alternative. Although dentists have used traditional scalpels and drills for centuries, it is much more invasive and often requires anesthesia before a particular procedure. Using a dental laser allows your child's pediatric dentist in McKinney to provide greater accuracy and precision when preparing to treat and improve their smile.
Laser dentistry can also:
Minimize the potential for anxiety – Whether is mild, moderate, or severe, a dental laser is often painless and does not require anesthesia. Also, unlike drills, they do not make loud noises or cause unpleasant sounds or feelings. A dental laser uses only minimal vibration, making it a welcomed option for anxious children, especially those with sensory and special needs.
Reduce recovery times – No child enjoys having to spend days or weeks laying on a couch or in bed after oral surgery. With the help of a dental laser, your little one can quickly resume normal activity because of its ability to clean the treated areas, minimize infection, and speed up the healing process. When soft oral tissues, teeth, and bone are not subjected to traditional scalpels and drills, they tend to heal much quicker.
Spur intrigue and excitement – There is a reason Sci-Fi movies are so popular among kids. It's because they often use lasers to blast away bad guys! When telling an anxious child that they're going to undergo laser dentistry, you may be surprised to see their expression turn from fear to pure excitement. Your child's dentist will likely explain how it works, helping them to become more eager about the idea of ridding their smiles of bacteria and harmful particles with the help of a dental laser.
Don't let your child live in fear of the dentist anymore. By choosing a pediatric dentist that offers laser dentistry, you'll not only discover it is a safer way to treat your child's smile, but it can truly change the way they view the dentist's office.
About the Practice
Dr. Justin Chan has been a practicing pediatric dentist in McKinney since 2012. Earning his dental degree at New York University College of Dentistry, he remains passionate about caring for and helping children of all ages grow and develop smiles that will last a lifetime. Patients who visit Sprout Dentistry for Kids will not only meet Dr. Justin but also Dr. Sage Yoo, a fellow pediatric dentist at the practice. After studying electrical engineering at Purdue University, Dr. Sage went on to earn his doctorate and complete his residency in pediatric dentistry at Tufts University School of Dental Medicine in Boston. Both Dr. Justin and Dr. Sage are trained to provide laser dentistry to all patients in need of necessary treatment. Using the Solea CO2 laser, your child can experience a less invasive procedure that is pain-free, needle-free, and suture-free. To learn more about the dental technology used in our office, visit our website or call (469) 301-3212.