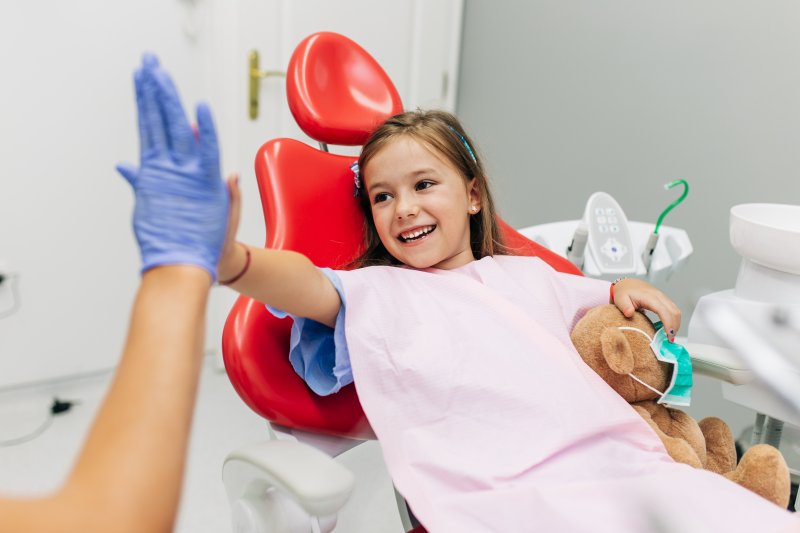 If you're a parent of a young child, there is a good chance you've heard various myths about children's dentistry in McKinney. Because of the endless amount of articles, videos, and so-called "experts" out there, it's easy to become bogged down by misinformation that you may believe to be fact. Fortunately, at Sprout Dentistry for Kids, Dr. Justin and Dr. Sage are here to debunk 3 of the most common untruths and ensure you have the correct and accurate information you need to make the right decision about your child's oral health.
It's No Big Deal for Cavities to Develop in Baby Teeth
Dental caries at any age is a problem. It doesn't matter if they form in baby or adult teeth, they must be treated as soon as possible. Just because these teeth will eventually fall out doesn't mean they should remain neglected until that time. Allowing a cavity to remain untreated can lead to a painful toothache, an unsightly aesthetic, and even the possibility of a serious infection (abscess). Not to mention, if bacteria spread to your child's bloodstream, it can negatively impact their mouth and body.
Even at a young age, it is best to establish good oral habits and maintain regular six-month checkups and cleanings with your child's pediatric dentist in McKinney. This is the most effective way to minimize their risk of developing cavities. However, if one does form, make sure to have it filled or capped with a dental crown so it will remain firmly in place until it's time to fall out.
Fluoride Toothpaste Isn't Necessary Until Your Child is Older
The moment your child's first tooth erupts, decay is a possibility. Children are much more prone to developing cavities, which is why it's important to follow the instructions provided to you by Dr. Justin and Dr. Sage when bringing your little one in for a regular dental visit. Using the correct amount of fluoride toothpaste is essential since little ones often swallow it. Because this natural mineral is designed to combat tooth decay and strengthen the enamel, children under the age of 2 should only receive a small smear (the size of a grain of rice) while those ages 3 and older can use a pea-sized amount of toothpaste.
The benefits of fluoride are many when used correctly and at an early age. Not only can it help to remineralize weakened enamel, but it can also be an integral part of their permanent teeth when erupting and moving into place.
You Don't Need to Help Your Children Brush Their Teeth
Unfortunately, as a parent, you'll need to help your children brush their teeth until they're at least 7 or 8. Why? Toddlers, preschoolers, and those who are in the first few years of grade school often have minimal dexterity when it comes to effectively cleaning their teeth. While it's completely fine and normal to allow your child the opportunity to brush and floss on their own, you'll need to do it for them for a while. Once they better hone their fine motor skills, you can transition to overseeing their morning and nighttime routine to ensure a complete and thorough cleaning.
Don't fall victim to the multitude of myths out there on the internet. If you have a question or need clarification, don't hesitate to ask Dr. Justin or Dr. Sage during your child's next appointment.
About the Authors
Dr. Justin Chan has been a practicing pediatric dentist since 2012. Earning his dental degree at New York University College of Dentistry, he remains passionate about caring for and helping children of all ages grow and develop smiles that will last a lifetime. Patients who visit Sprout Dentistry for Kids will not only meet Dr. Justin but also Dr. Sage Yoo, a fellow pediatric dentist at the practice. After studying electrical engineering at Purdue University, Dr. Sage went on to earn his doctorate and complete his residency in pediatric dentistry at Tufts University School of Dental Medicine in Boston. Both he and Dr. Justin offer a variety of comprehensive services to care for the dental needs of all patients who come through their doors. To learn more about our services, visit our website or call (469) 301-3212.