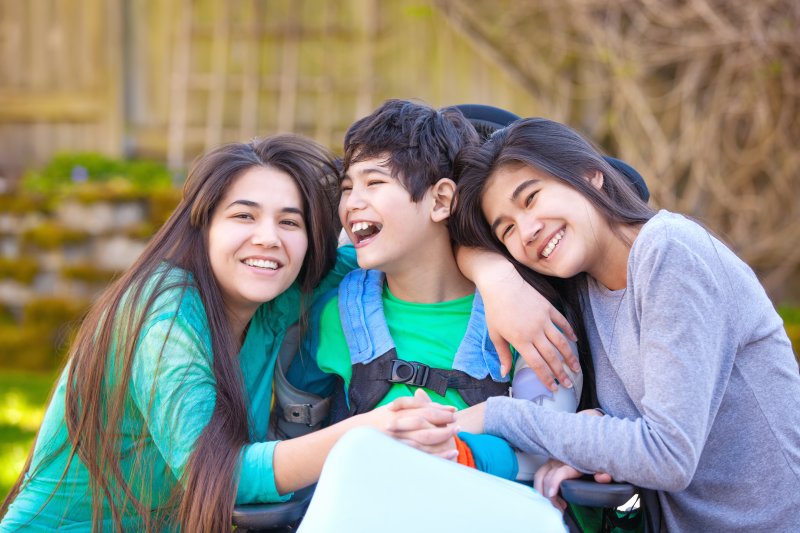 Helping children stay on top of their dental care may be a challenging task for many parents. However, it can be a downright battle for parents with special needs children.
Children with a physical, emotional, behavioral, intellectual, or communication disability might not be able to care for their teeth independently, meaning their parents or caregivers must always be there to assist them. Some even experience high levels of anxiety when it comes to visiting the dentist. Fortunately, there are a few ways you can help your little ones enjoy caring for their smile! Read along to learn more.
Establish a Daily Routine
Does your child dislike cleaning their teeth because they hate the feeling of a toothbrush? You may have to try several different brushes to find the right one. If none work, you may have to think outside the box and find an alternative to get the job done.
For some parents, swapping out the toothbrush for a clean, wet washcloth proved to be an effective solution. Basically, you let your child chew on the washcloth for a few minutes twice a day. Move it around their mouth while they are chewing to ensure all the teeth are scrubbed clean. Once you find an oral hygiene routine that works for your child, make sure you stick with it every morning and evening!
Find a Dentist Who Has Experience with Special Needs
Not all offices are equipped for children with special needs. Some aren't wheelchair accessible, and others may have a harsh sensory environment. Visiting a dentist who has plenty of experience working with all types of children can make a huge difference in your dental visits! They will be more than happy to make any accommodations necessary to ensure your child will have a pleasant experience. Ask for referrals from other families within the special needs community or your child's therapy team.
Make Checkups a Fun Experience
By making dental visits a fun, comfortable experience, your child will be more willing to attend their routine checkups. Here are some ways you can encourage them:
Help your child get familiar with practice visits
Make a story about going to the dentist
Read your child books about going to the dentist and the importance of oral hygiene
Schedule each part of the visit on different days (i.e., cleaning one day, exam another, and x-ray another)
Allow them to bring one familiar item to bring them comfort (a toy, blanket, or music player)
All children need to visit their dentist regularly, special needs or not. Follow these tips to encourage your child to practice proper dental care and keep their smiles happy and healthy for years to come!
About the Practice
Our team at Sprout Dentistry for Kids goes above and beyond to ensure your children's smile is strong and beautiful throughout every stage of life. Both of our pediatric dentists are certified specialists, meaning they underwent two additional years of advanced training dedicated to taking care of children, including those with special needs. Because of our expertise, we're confident that we have everything your child needs for a breezy, comfortable experience. To schedule a checkup, visit our website or call (469) 813-7127.