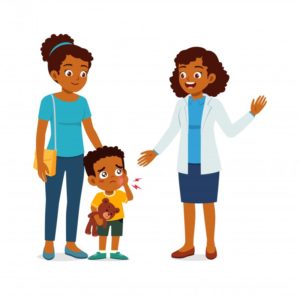 As your child progressively loses all their baby teeth, the last ones left will nearly always be their two-year molars. They are also the final teeth to come in for babies and may do so one at a time. First molars usually come in at 13-19 months on the top row and 14-18 months on the bottom row, while the second ones arrive at about 25-33 months on top and 23-21 on the bottom. Not only is teething usually unpleasant for babies, but it can also be tough for parents to navigate as well. Read on to learn from a pediatric dentist in McKinney about signs two-year molars are coming in, pain management tips, and indications your little one needs an appointment scheduled.
How Do I Know My Child's Two-Year Molars Are Coming In?
The symptoms associated with two-year molars erupting are not unlike indications of other teeth coming in. Your child may have gums that are red and sore, frequent drooling, they often seem irritable, or you frequently see them chewing on their clothing or other objects.
One way it may be easier for you to know two-year molars are coming in compared to earlier teeth is that your toddler may be able to tell you their mouth is hurting. Know that the symptoms can vary greatly for each child. Some won't complain or express discomfort when their molars come in, while others will be in distress and may even mention they have a headache.
How Can I Help with Pain Management When Two-Year Molars Erupt?
Medications can be used, but save that route as a last resort and ask their pediatrician first. Fortunately, there are several approaches you can try first.
Items to Avoid
Don't expect much help from a traditional teething ring, as it is designed for a young baby's front teeth. Actively avoid amber teething necklaces; not only can they cause choking, but there is also no scientific proof they are effective. Keep your child from chewing hard plastic toys, but toys made of latex or silicone can be an effective source of relief.
Home Remedies
To relieve molar pain and discomfort, you could potentially put a wet, cool gauze pad on their gums or use your finger to gently massage the gums. Rubbing a cool spoon on their gums could help; just don't let your little one bite the spoon. Also, you can let your child chew on a wet washcloth, but make sure it's not an old one that's starting to fall apart.
Food
In some dental advice content, you'll be told to generally steer clear of hard, crunchy foods. In this case, however, those options can be helpful for toddlers. Try giving them peeled cucumbers, apples, or carrots, and see if you can get them to chew on the side of their mouth that's most irritated. Chilled produce can be more effective in relieving tooth pain.
Medications
Again, you'll need to check with their doctor. Tylenol is most often recommended to relieve pain in babies and toddlers. Advil or Aleve shouldn't be given to children with asthma.
Time to Schedule an Appointment
Expect your little one to be uncomfortable at times during the teething process. But severe symptoms require help. Persistent fever or diarrhea should mean an automatic call to their pediatrician. Also, you might consider visiting their pediatric dentist in times of unrelenting crankiness and discomfort during the two-year molar process.
With the help of your child's dentist and doctor, you can get sound advice throughout the teething process. Hang tough; after all, these molars are the last of your incoming child's baby teeth.
About the Author
Dr. Sage Yoo earned his dental doctorate from Tufts University in Boston on his journey to become a pediatric dentist. He is a member of the American Dental Association and the American Academy of Pediatric Dentistry. As a trusted pediatric dentist in McKinney, Dr. Yoo and fellow board-certified pediatric dentist Dr. Justin Chan will be ready to help navigate your child's teething, including two-year molars. You can schedule an appointment on their website or call (469) 813-7127.