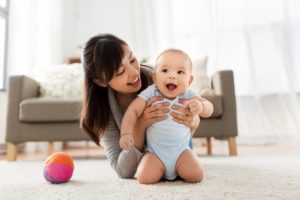 Lip and tongue-ties are being more commonly diagnosed than ever before due to parents' increased knowledge about these conditions, like knowing what signs to look out for that could indicate their infant is affected. However, there's also misinformation out there, making it difficult to decipher fact from fiction and causing misunderstandings. Read on to learn four common myths about lip and tongue-ties that have been debunked.
Clipping Lip or Tongue-Ties is the Best Option
Many people know the treatment for lip and tongue-ties is to snip the overgrown or long frenulum with surgical scissors. While this can release the lip or tongue and help your child, there is one more advanced, more precise, and better option available. Today, many dentists also offer frenectomies using a soft tissue diode laser. This method is gentler and immediately cauterizes the area on-contact, minimizing your child's bleeding and discomfort, as well as reducing their chances of post-operative infections.
Lip & Tongue-Ties Don't Cause Any Problems
While some lip and tongue-ties may be so minor that they don't pose any type of threat to your infant's development, many of them can lead to barriers down the road. Some future issues that can arise as a result of not treating lip and tongue-ties include:
Sleep and airway issues
Dental and orthodontic problems
Speech impediments
Difficulty eating certain foods
Tongue-Ties & Sleep Aren't Correlated
One reality that many parents aren't aware of is that some cases of lip and tongue-ties can lead to airway and breathing issues. As you sleep, the tongue should rest higher on the palate to ensure the airway isn't obstructed. If a tongue-tie prevents this from happening, it can fall back and block the airway, which can lead to mouth breathing and sleeping difficulties.
Frenectomies are Recommended for All Lip & Tongue-Ties
Just like with any other type of medical or dental problem, there are varying severities of lip and tongue-ties. Your child's dentist will recommend treatment only if it's appropriate because the benefits outweigh any recovery or cost of the procedure. Typically, frenectomies aren't recommended for infants who have minor cases that will pose little-to-no threat to their development and health down the road.
About the Practice
Drs. Justin and Sage are both board-certified pediatric dentists who are passionate about educating parents about their child's oral development and providing outstanding, positive, and fun dental experiences. They use the latest technology, like their soft tissue laser, to provide fast, pain-less, and safer treatments like frenectomies. To schedule a consultation to learn whether your child has a lip or tongue-tie, visit Sprout Dentistry for Kids of McKinney's website or call 469-813-7127.