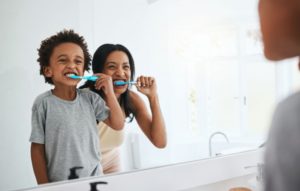 It can be difficult to help your child understand the importance of brushing and flossing their teeth every day, but with the proper motivation and oral hygiene instruments, they can keep their pearly whites happy and healthy for a lifetime. If you're having a hard time encouraging your little one to maintain a consistent oral hygiene routine, read on for three tips that can help aid your efforts!
1. Take Them Shopping for Oral Hygiene Products
Getting a child engaged in their oral health means getting them excited about it. Fortunately, there are countless kid-centered oral hygiene products out there that dawn their favorite TV characters and flavors to make it feel less like a chore keeping their smile healthy. Take them to the store with you and have them pick out any of the following key gadgets:
An electric toothbrush that plays a 2-minute tune so they know when to stop brushing. Or, if they don't like the way electric toothbrushes feel, you can always get them a manual one and set a timer! Make sure that it has soft bristles, not hard.
Bubblegum or other-flavored fluoride toothpaste is also a must. Some children find the taste of mint to be overwhelming—fortunately, there are several other toothpaste flavors out there that can make brushing more enjoyable.
If your child is old enough to floss, have them choose a flavored dental floss, too!
2. Educate Them on the Importance of Brushing & Flossing
One great source of motivating your child to maintain good at-home oral hygiene is by teaching them why it's necessary. It's important not to scare them, but explaining how brushing and flossing keeps the bacteria away and ensures their pearly whites stay in their mouth may be the added incentive they need to stick to their routine.
3. Teach Them the Proper Techniques
Getting your child to be self-sufficient when it comes to taking care of their smile is a huge milestone! In order for that to happen, it's important you equip them with the right tools and techniques to get the job done well. Here are key brushing techniques as recommended by the American Dental Association:
If your child is under three, use a rice grain-sized smear of fluoride toothpaste. If they're between three and six, use a pea-sized amount.
Place your child in a spot that's most comfortable for them, like on the counter or a step stool.
Begin by brushing the inside of their teeth, gradually moving towards the outside, all while holding the brush at a 45-degree angle.
Brush the chewing surface of their teeth, being sure to reach the molars in the far back of their mouth.
Allow them to spit and rinse periodically throughout.
Remind them they should never swallow fluoride toothpaste.
Make sure to commend them for brushing their teeth so they feel proud!
Getting your child to brush and floss regularly can be an incredibly difficult task to take on, but with the right attitude and these helpful tips at your disposal, you can help your favorite smile grow to be healthy and cavity-free.
About the Practice
Drs. Justin and Sage are board-certified pediatric dentists, which means they've completed specialized training that focuses on children's oral development. From early checkups and cleanings to nightguards and tooth extractions, they're able to offer a wide range of infant, toddler, and teen-focused services that help their smiles grow to be happy and healthy. For questions or to schedule an appointment, visit Sprout Dentistry for Kids of McKinney's website or call 469-813-7127.